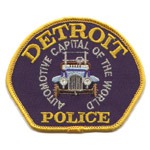 Hero's Name:
Kevin D. Miller
Agency:
Detroit Police Department
End of Watch:
June 29, 2016
---
NOTES:
"Kevin would always said SAY SOMETHING … because he said this would start things to change. He promoted getting involved and not taking a back seat to any issue.
He thought all lives mattered, and believed we as a people could make changes by praying, loving, caring and getting involved. He always spoke up even in uncomfortable situation because it was the right thing to do. He always spoke with conviction and loved to sing. He is truly missed and will never be forgotten.
Because of him and so many of his fellow officers and friends, I now speak and smile at all officers I have the opportunity to meet and I thank them for the service they provide me for doing sometimes a thankless job that most don't appreciate. Lt Kevin D Miller I salute you."
-from, Melba, sister-in-law on 9-12-16